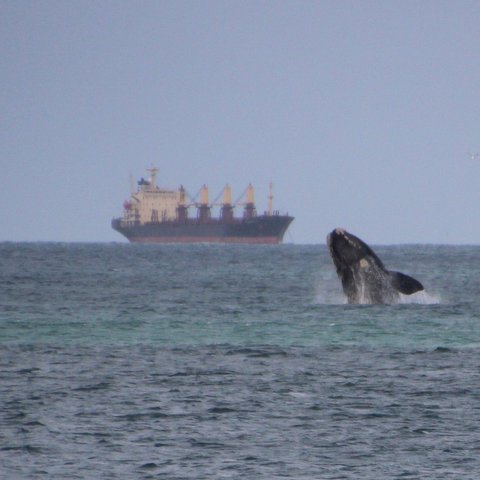 Have a whale of a time watching for the majestic creatures that frequent the Portland Bay, Cape Nelson and Cape Bridgewater. Our southern Ocean waters are a year round whale watching destination,and there are many vantage points to watch from land as Blue and Southern Right Whales frolic in our special waters.
If the yellow flag is flying outside the Portland Visitor Information Centre there is a great chance visitors will catch a glimpse of Southern Right Whales,which often visit Portland and Cape Bridgewater in winter. Southern Right Whales are easily distinguished by large white bumps on the top and side of the head.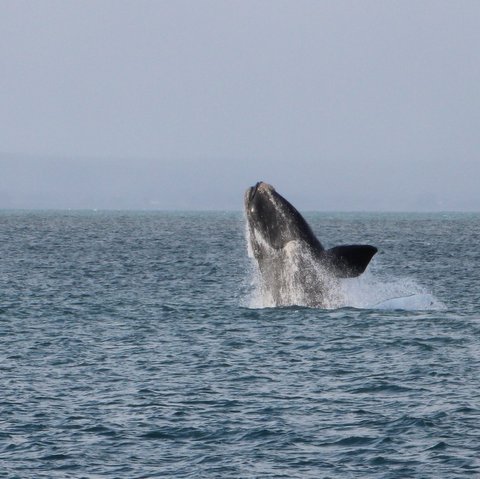 They are predominately dark brown to black in color, grow up to 18 metres long and may live for 60 years. They visit the south-west coast from May to October, on their annual migration from the deep Southern Ocean where they feed, to the warmer waters of Southern Australia to mate and calve.
During our summer months when the Bonney Upwelling occurs, Earths largest mammal, the Blue Whale visits. The average length of a Big Blue is about 22 – 24 metres and they can weigh over 100 tonnes. Blue Whales are mostly spotted from November to May. Cape Nelson and Cape Bridgewater are two of the few places in the world where Blue Whales can be seen feeding from land.
Winter Southern Right Whale Viewing Spots
Out on the breakwater – closest you will get to whales as some times they come visiting right into the harbour.
On the clifftop overlooking the bay – locals on their morning walks are often report the first sightings of the day along the cliff top. Great spots include at the lighthouse at Whalers Bluff and from the Ploughed Field overlooking Nuns Beach.
Cape Bridgewater Bay – there are many great spots for viewing the Southern Right Whales along with dolphins, killer whales and seals when they come into the bay.
Summer Blue Whale Viewing Spots 
Viewing platforms at Cape Nelson Lighthouse
Blowholes at Cape Bridgewater – look for the 12 metre blow! Be sure to take your binoculars for easy viewing.
For more information on Blue Whales and the Bonney Upwelling, pick up a copy of our brochure at the Visitor Information Centre or visit   www.bluewhalestudy.org
To receive updates on Southern Right and Blue Whale sightings and movements visit  www.whalemail.com.au