Our Town Harbour
With its Easterly facing aspect Portland Harbour is sheltered and offers something for everyone.
Starting from Andersons Point to Portland's World War II Memorial Lookout and magnificent views over the bay, take the 145 steps down to the shore line for the start of your morning walk.
Moving south you will come to Whalers Point under the Lighthouse. This is the start of Nun's Beach and there are once again 88 steps leading up to the Ploughed Field.

Nuns Beach
A wide sandy beach excellent for swimming, with a board walk, picnic areas, BBQ's and change room, makes an ideal venue for a day at the beach.
Moving along again you will come to the Lee Breakwater. Owned by the Port of Portland, the breakwater is open to the public. With vehicle access for 1km the breakwater is one of Portland's most popular land base fishing spots. The breakwater is also the home of the S.L. Patterson Berth and Portland's two tugs "Cape Grant" and "Cape Nelson".
Next is Portland's new Marina which has facility for 70 boats. There is  a new 4 lane boat ramp to help cater for Portland's growing popularity as a fishing destination.
Portland's Maritime Museum and Discovery Centre is a must for all visitors. Explore Portland's maritime history which is home to the Portland Lifeboat one of the oldest in Australia and the Maritime Museum. Portland Visitor Information Centre is also housed here, where you can collect all your information on exploring the Discovery Coast. There is a free exhibition that is changed every 6 months up in the Galley or whether you are wanting to buy that special souvenir from the gift shop.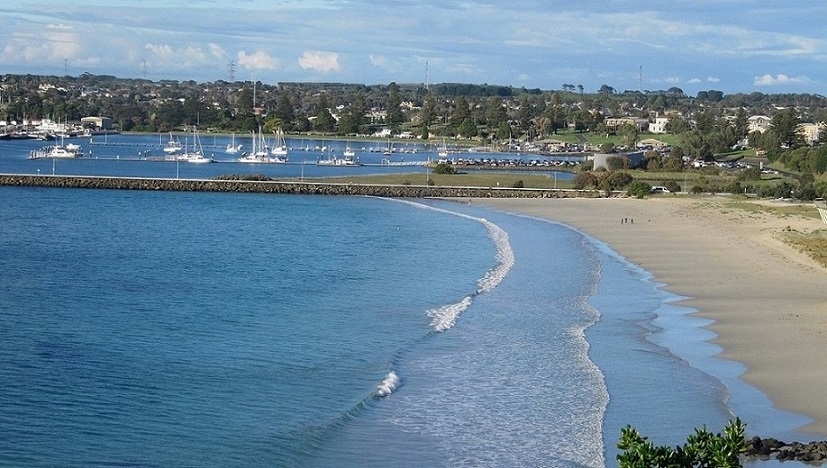 Dutton Beach
With access for people to launch small dingy's and jet skis. The beach has a grassed area and is also a great beach for children to swim and paddle.
In the middle of the harbour precinct is Portland's current boat ramp. During the tuna season this is arguably the busiest part of Portland. Visitors flock down here to watch the boats come in the afternoons and clean their catch, and the seals come for their feed. Situated next to here on the water front is the Portland Yacht Club, with just behind is the Portland Angling Club House. Both of these venues are available for hire by the public for functions.
The large grasses area which undulates up to Bentinck Street is used for Portland's Upwelling Festival, which is held the long week end of the Melbourne Cup. The Upwelling Festival celebrates the unique features of Portland, in particular the Bonney Upwelling. This area is also home to Christmas in Portland and the New Year Eve's celebration.

Henty Bay
Extensive grassed area with BBQ's, play grounds, another child friendly beach, this is a great area to picnic. Portland Navy Cadets also have their base here. At the end of Henty Beach lawns is a skate park for those who like adventure on their skate board or BMX bike
A great place to sit and watch the busy Port of Portland working. Watch as ships moor and depart, large trucks get tipped vertical to unload wood chips and shipping in general coming and going.
Ending our harbour precinct is the trawler wharf home to Portland's commercial fishing fleet, the public has access to this area. We ask that you remain vigilant as this is a busy area with commercial vehicles coming and going.
Boat Launching Ramps
There are two boat launching ramps in the harbour. Near the Yacht Club there are two ramps and 4 lanes in total with 4 fish cleaning tables and designated parking for around 26 vehicles and trailers. Further north past the Visitor Information Centre is a second boat ramp with 4 lanes and 8 fish cleaning tables with designated parking for 70 vehicles and trailers and an overflow area for around 100 vehicles and trailers. Several ticket machines are located on the foreshore for day passes. Day and annual passes can also be purchased from the council, Local Port of Portland Bay office and the Visitor Information Centre Customer Service.
The Portland Bay Marina has paid berths available for boats ranging from small trailer boats to large ocean going cruisers and yachts. Information on boating facilities is available on the Glenelg Shire Councils website under the Local Port of Portland Bay. Phone 03 5522 2141 or email [email protected]