Through the Discovery Bay Coastal Park between the South Australian border and Portland you can find 1800 hectare area of mainly all bare dunes providing a mecca for off-road enthusiasts. The park gives a quiet place to camp and enjoy the solitude and the wilderness of this windswept section of coast. The southern end of the 50 km sweep of Discovery Bay is the Portland Dune Buggy Club area.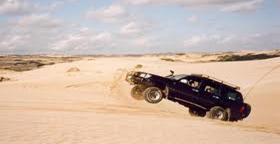 Membership is essential to access the area and for the safety of yourself and other vehicles it is essential that the basic rules are read and followed. Memberships can be purchased for periods from four days for individuals, group and four wheel drive clubs bookings to be annual memberships for those who wish to enjoy the experience throughout the year. Applications should be forwarded to the Portland Dune Buggy Club and up to five weeks is required for memberships to be processed.
Bookings of the campsite are also made through the PDBC and longweekends, Christmas and Easter are only available to annual members. Portland Dune Buggy Club meetings are held on the third Friday of each month at Heathmere. The club does not offer tours and ther is currently no option for hiring vehicles specifically for touring the park.
Camping facilities are available for members and include a large open area for use only for members. Parks Victoria also offers a camping area in the Discovery Bay Coastal Park. It is important to note that staying in the Parks Victoria Camp Site does not allow access to four wheel driving in the park and PDBC Membership is a separate requirement.
There are no marked tracks other than signs through cuttings that are one way signs or do not enter. Driving on vegetated areas is strictly prohibited and driving onto beaches is also not allowed. Once at the entrance to the beach visitors are allowed to walk on the beach and fish from the beach.
There are no provisions for emergencies in PDBC membership and it is advised that visitors have suitable access to mobile communications and contact details of local services. All vehicles are required to meet the standards set by the PDBC, vehicles must be road registered or have non registration vehicle insurance through the club. Flags of at least four metres high must be displayed on the vehicle and no form of bike are allowed. (trikes,quads or dirt bikes).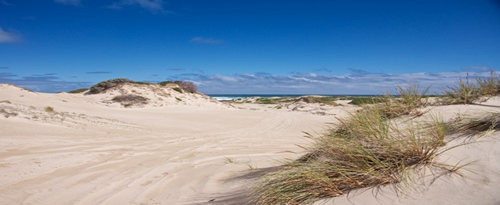 For further details on the Portland Dune Buggy Club you can go to the web site
www.visitportlanddunebuggyclub>com.au
Membership and bookings call Kerry  – 0428 310 590