The Portland Tourist Association is a Not For Profit Organisation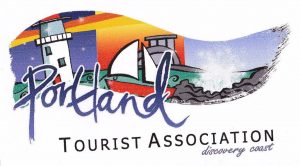 The Portland Tourist Association invites all businesses and individuals to join us and become involved with the promotion of Portland and its surrounding areas to tourists and locals to draw and retain business and tourism to our region.
The Role of a Local Tourist Association is to…
Liaise with the local community on tourism issues.
Develop local tourism products.
Co-ordinate local facilities and services.
Visitor servicing. Providing a quality visitor experience throughout all tourism businesses.Work with regional tourist associations in the Discovery Coast ( Casterton Dartmoor Heywood and Nelson) on co-operative marketing programs.
Represent members to and co-ordinate with local government on tourism issues.Raise the professionalism of our local tourism industry by offering opportunities for networking, training and industry familiarization.
Distribution of Tourism Dollars
Each tourist dollar circulates throughout the towns economy eight times before it dissipates.
We all benefit from tourism, if not directly then indirectly as each business not only sells to the public but also other business with the same tourist dollar.
Even those businesses that don't see tourists through their doors can benefit from the tourist dollar in other ways
Portland Tourist Association Benefits
Supporting local community, being recognised and supported by the community.
Networking, making connections within your industry and other partnerships relevant to your business.
One voice on issues that affect our members and shopping precinct.
Invitations to various business networking  and social events. Lobbying to all levels of government on your behalf giving local business a voice.
Being able to display your brochures at the Portland Visitor Information Centre. Drawing tourism and business to our region and encourage everyone to shop locally.Best of all you will get to know your neighbors and the business community and help build a stronger Portland
Take up the Challenge for Tourism Dollars
There are only so many tourism dollars to go around. we need to draw tourism and business to our area and not let it escape to other areas because of the state of the economy or seasonal factors.
Our biggest competition comes from our neighboring regions, Warrnambool, Port Fairy, Hamilton and Mt. Gambier.
We need to challenge these areas and cannot afford to have large leakages of retail dollars to out neighbors.
Promotional Opportunities for Members;
Portland Tourist Association web sit — www.visitportland.com.au

  and face book page.

The web site is owned and operated bu the Portland Tourist  Association. It features a powerful member directory and information on the whole Discovery Coast..
 This web site is easy to use and is I phone friendly to make it accessible to the large number of people who use their mobile devices whilst travelling.
All members have the opportunity to display their brochures at the Portland Visitor Information Centre.
Accommodation referral service is a service provided  by the visitor Information Centre on a daily basis.
All Portland and surrounding accommodation providers who are members are listed in a comprehensive regional accommodation guide that is available at three  of the districts Visitor Information Centers.
The visitor Information Centre encourages members to inform them of vacancies / accommodation availability especially during the traditionally bust times of school holidays and long weekends so they can assist in  referring guests to your business