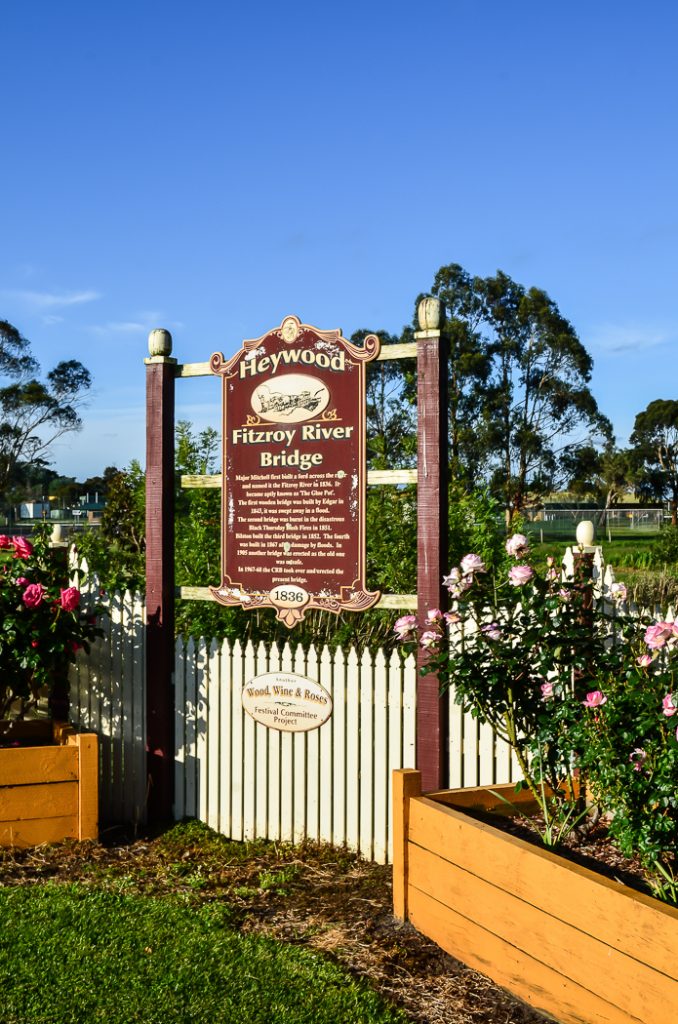 In 1836 Major Thomas Mitchell crossed and named the Fitzroy River. He then made his way via Mount Clay which he also named, to Portland Bay where he was surprised to find the Henty brothers had already established some buildings and been farming since 1834.
Mitchell backtracked to the Fitzroy River where he rejoined the rest of the party, which had been bogged down as they followed the river.
A few months later (1837) Stephen Henty and his men cut through the forest to also arrive at the Fitzroy River. Stephen named it the Second River. He crossed the river and established a property called North Downs Station. His men fenced 13 acres.
In 1839 Samuel Evans, who had built a house by Second River, received his hotel licence – so this house then became known as the bush Inn or Bush Tavern (later Bilson's Inn). Also in 1839 Foster Fyans passed through Second River with his inland party which originally started from Melbourne to travel to Portland Bay. Several months later Surveyor Charles Tyres reported that the land around the Fitzroy River "is fit for grazing and cultivation and has plenty of good waters. It is also a direct route to Portland Bay and is a convenient distance for a township".
The first wooden bridge across the Fitzroy River was built in January 1842 by David Edgar. Sadly, on 6th February the black Thursday bush-fires destroyed not only the wooden bridge under which people were sheltering, but also the majority of township buildings.
Notoriety was achieved in 1850 when one of Australia's most infamous bush rangers, Frank Gardiner, not only visited Bilson's Inn but was arrested there. He had been making his way to Portland on stolen horses. Gardiner escaped from goal and returned to his profession as a bush-ranger,
In 1852 Government Surveyor Lindsay Clarke officially named Heywood after his home town in England.
In the late 1850's James McGregor dammed the Fitzroy River, diverting water to power a water wheel to drive equipment in his timber mill. This was said to be the first mill of its kind in Australia. Later a steam engine imported from Scotland was used. A large number of men were employed and up to 200 bullocks, in teams, were used to haul logs from the forest to the mill.
Pieces of furniture made in this mill are on display at the Pioneer Wagon Shed and Museum.
Heywood was a town reliant on wood, bullock teams and lots of perspiration. Most items that could be made of wood came out of Heywood.
Today"s Heywood is the hub for exploring this scenic and historic district and also for visiting further afield to Mount Gambier, Hamilton, Portland and Warrnambool.
Heywood and surrounds is certainly a "must explore" area. Chat with friendly locals in the cafes, hotel, motel and shopping area and ask about;
-The Old School which houses the miniature railway depicting the area
-Some of the oldest houses (one was reputedly the original police residence)
Heywood's Water Tower
The sacrifice and bravery exhibited by Heywood's Indigenous servicemen and women is recognised within the armed forces. Amongst those are four Lovett brothers who served Australia in both the First and Second World Wars and returned home alive. The four brothers have now come to symbolise the commitment and determination of our Gunditjmara men and women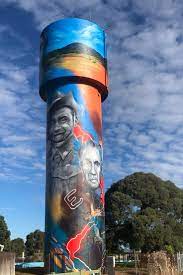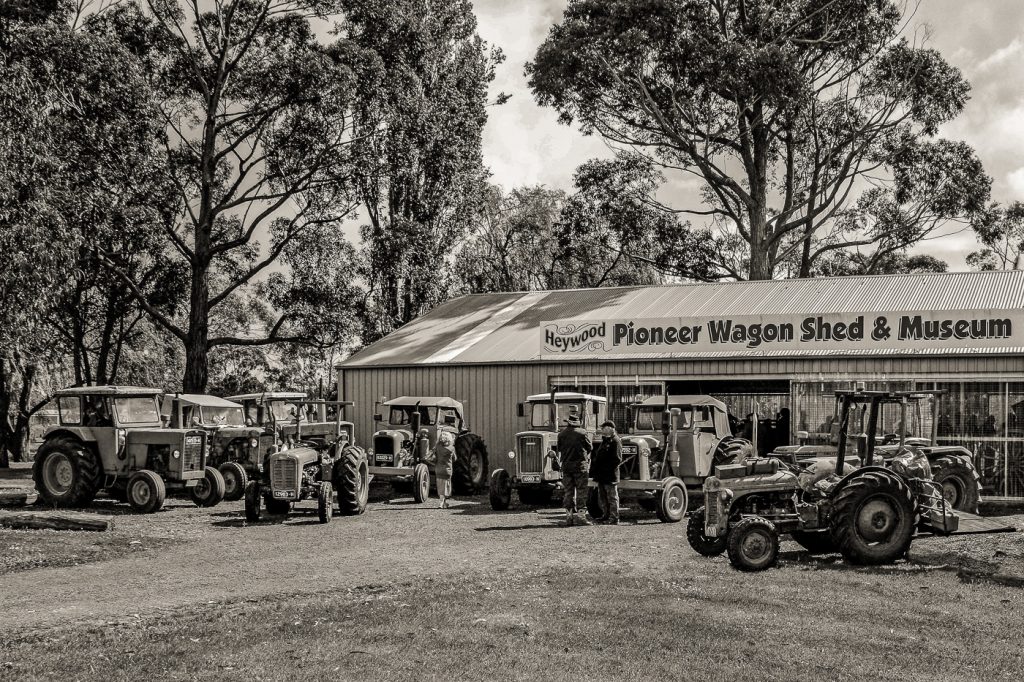 Trucking wall of Legends
Memorial entrance gates at Heywood Hospital
Historic Churches dating from 1866 onwards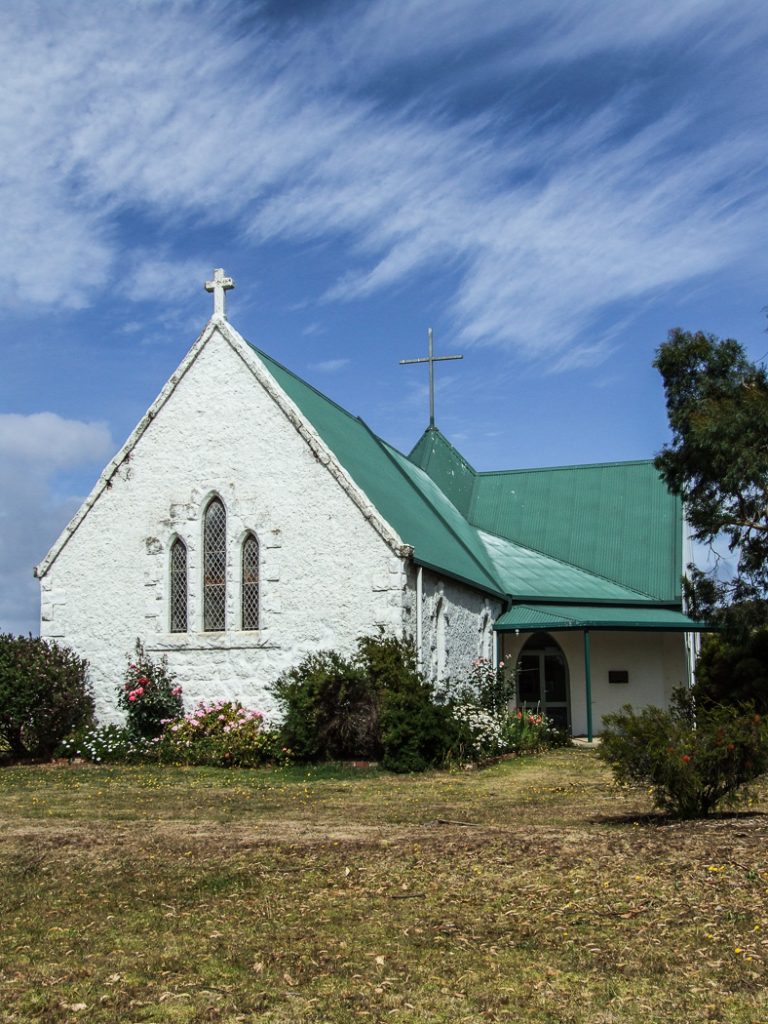 – James Rogers VC memorial. He served in the 3rd Light Horse Regiment,
– Leiut 1914 -1918, near the ANZAC memorial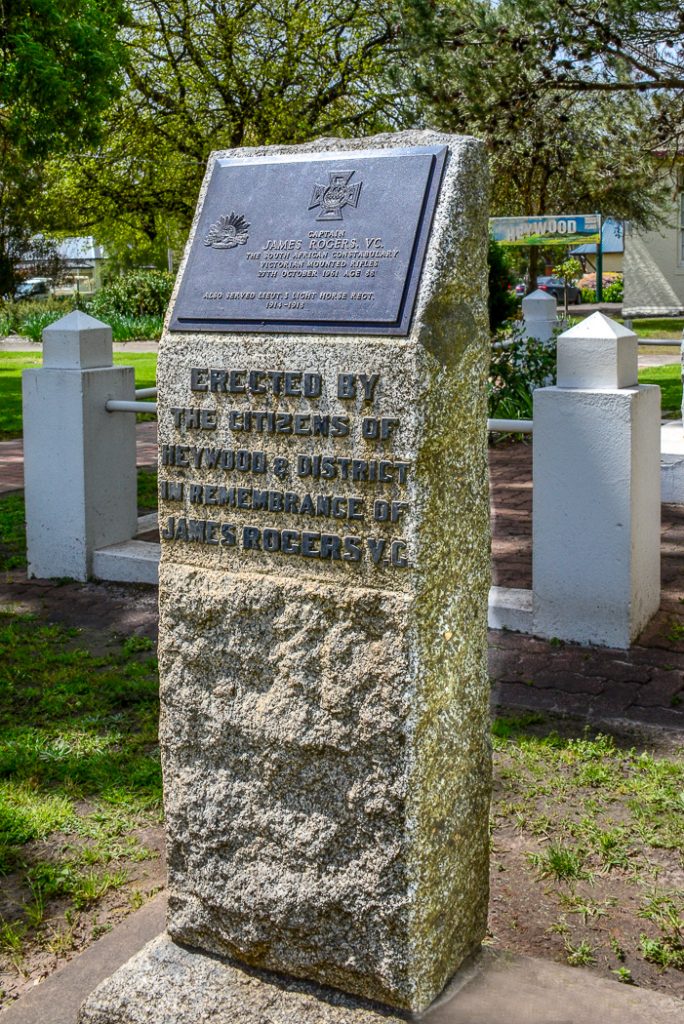 – Old railway station
– At Heathmere  – speedway racing
– At Bolwarra –  Trelaor's Rose
The last weekend in February is devoted to the Wood, Wine & Roses festival when thousands flock to the grand procession of floats, groups and individuals representing schools, community organisations, indigenous heritage, comic and vintage vehicles, huge trucks and more.
Family friendly festivities continue with all day markets, entertainment including highland dancing, a huge truck show, traditional country competitions and all day entertainment culminating in an evening concert and fireworks display.
Enjoy Wood  – excursions in the forest and National Parks
Enjoy Wine – from local boutique wineries
Enjoy Roses – the perfume and color of the main street in full bloom
Places to eat in Heywood
Goat and Tree    73 Edgar Street    Phone  03 5509 2326
    Email  [email protected]
The Goat and Tree is the place to go in Heywood. Serving breakfasts, lunches and coffee's. Catering for groups or parties. Good for children. Outdoor settings. Takes bookings. Take away food. Walk ins welcome.