Portland Seaview Real Estate
Sea View Real Estate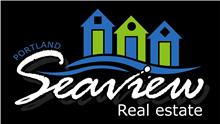 Portland Seaview Real Estate has developed and evolved into one of the most progressive and modern agencies in South West Victoria. We strive to obtain the best results for our clients through quality, reliability and a friendly service. This has had proven results with the company achieving 500% growth in the first 5 years of operation.
With demand continuing to grow in sales, residential rentals, commercial rentals and newly introduced holiday rentals Portland Seaview have increased staff numbers to 10 to maintain work efficiency and ensure we continue to provide excellent customer service.
We are committed to constantly evolving our marketing approach through a combination of familiar and progressive strategies. Our philosophy ensures that we attract attention from a wide range and area of the market in an effort to obtain the best result for you. This means that while maintaining traditional marketing methods we have developed and use modern techniques which include a database of over 2600 people on facebook, a twitter site, a myspace site and touch screen display.